Investment Screening | National Security | Competitiveness
The CELIS Institute is an independent non-profit, non-partisan research enterprise dedicated to promoting better regulation of foreign investments in the context of security, public order, and competitiveness. It produces expert analysis and fosters a continuous trusting dialogue between policymakers, the investment community, and academics. The CELIS Institute is the leading forum for studying and debating investment screening policy. →
Want to get involved? Here are ways to stay in touch and contribute to the Institute's aims:
Latest CELIS Blog posts relating to the field of foreign investment screening and economic security.
By Pouya Ghotbi, Wistrand Advokatbyrå    Background In 1916, the Swedish government introduced a piece of legislation restricting the right of foreigners to invest in Sweden. During the 1970s and early 1980s, the legislation was further tightened, making it difficult for foreigners to acquire businesses in Sweden without government scrutiny. The Act was abolished 1991,…
Read More

→
Ireland – Introduction of a new FDI screening regime on 31 October 2023 On 31 October 2023, the Screening of Third Country Transactions Act 2023 was signed into law. Since the initial draft was published on 2 August 2022, the Act has undergone a series of amendments during the course of 2023,. Therewith, for the…
Read More

→
By Jonas Fechter, University of Münster / CELIS Deputy Assistant Director  I. Introduction Investment screening is infamous for the low number of judicial proceedings that have challenged the legality of the prohibition and mitigation measures imposed by governments. As a result, there is, as yet, no strong body of case law clarifying how investment screening…
Read More

→
CELIS produces, hosts, and points to various original and third-party content relating to the fields of foreign investment and public order and secruity as well as investment protection and facilitation.
CELIS hosts and organises alone and with partners various events on the fields of foreign investment and public order and secruity. Our flagship event is the CELIS annual conference.
CELIS International Conferences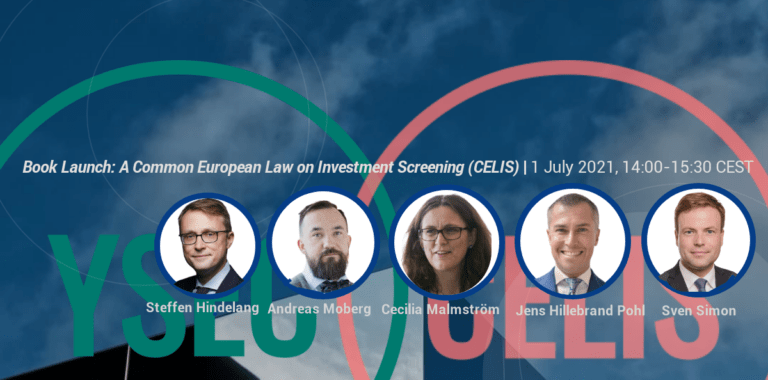 CELIS Book Launch 2021 – Video – With Cecilia Malmström and Sven Simon On 1 July 2021, the CELIS Institute and the YSEC Yearbook of Socio-Economic Constitutions celebrated the official launch of "A Common European Law on Investment Screening (CELIS)" (published by Springer Nature Group) featuring a high-level panel debate with former European Commissioner for Trade Cecilia Malmström and Sven Simon,…